Repair iPhone in KL - iPhone, iPad, and Smartphone Repair Specialist
  6-1, Jalan Dagang 1/1A, Taman Dagang ,68000 Ampang, Selangor, MY (Waze Now!)
11:00 AM – 9:00 PM (Open 7 Days ), Friday Break: 12:30 PM – 3:00 PM
WhatsApp Us!
Call Now!
Service Provided
Repair iPhone in KL here as we do face to face repair iPad, iPhone, Macbook and iMac. Every part is guaranteed to be original with 180 days warranty.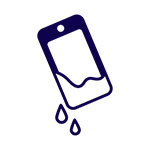 Button Module Replacement
Antenna Module Replacement
(Crack) Screen Replacement
Statistics
So far, our team has done iPhone repair in KL and we have been fixing various iPhone, iPad and smartphones issues. Below are the statistics of the problems that we have fixed (and counting)
Water Damaged Restoration
Customers Review
We have been doing iPhone repairs in KL for a number of years. You can read the words of our satisfied clients.
Best place to repair your iphone. Within half an hour/an hour will solve your phone issue. They repair face to face directly in front of you. Been here twice already using their services.
⭐⭐⭐⭐⭐
Aidy Syafeez Johan
The service was tremendously amazing. Friendly staffs. Super fast. Very knowledgeable as well. I would recommend this place to all iPhone-ers.
⭐⭐⭐⭐⭐
Sholehin Wak Din
Service memang terbaik. 5 star. layanan pekerja yg sgt awesome. sangat ramah dan explaination yg padu tentang problem phone dan give the best advise. mmg high recomended. mmg berbaloi dan very2 satisfied.
⭐⭐⭐⭐⭐
Raja Shafiq
The best service i never had. U guys shud try this.good price n good service
⭐⭐⭐⭐⭐
Saiful Al Eiman
Good service and location is very strategic

⭐⭐⭐⭐⭐
Fauziah Hanim
Customer Gallery
There are no other places to repair your iPhone in KL like iPro. These are all of our satisfied customers
Blog and Articles
We shared some knowledge and information here for you.
Previously, the customer sought help from another shop for their iPhone 11 Pro Max. However, the battery, extensively modified, prompted the decision to opt for a genuine replacement. The replacement process was efficiently completed within an hour. Our repair center...
Contact Information
Contact us for further information or find us today for a Free Broken Device Diagnosis.
We accept payment from Card and eWallet.
List of Item We Repair
Is your item not on the list? Contact us now. We may be able to help you with your device.
List of iPhone We Repair
iPhone 3G
iPhone 3GS
iPhone 4
iPhone 4S
iPhone 5
iPhone 5S
iPhone 5C
iPhone SE
iPhone 6
iPhone 6 Plus
iPhone 7
iPhone 7 Plus
iPhone 8
iPhone 8 Plus
iPhone X
iPhone XR
iPhone XS
iPhone XS Max
iPhone 11
iPhone 11 Pro
iPhone 11 Pro Max
iPhone 12 
iPhone 12 Pro
iPhone 12 Mini
iPhone 12 Pro Max
iPhone SE 2 Gen
iPhone 13
iPhone 13 Pro
iPhone 13 Pro Max
iPhone 13 Mini
iPhone 14
iPhone 14 Plus
iPhone 14 Pro
iPhone 14 Pro Max
List of MacBook Model We Repair
MacBook Core Duo
MacBook Core 2 Duo
MacBook Unibody A1278
MacBook Unibody A1342
MacBook 2015
MacBook 2016
MacBook 2017
MacBook 2018
MacBook 2019
Retina MacBook 2015
Retina MacBook 2016
Retina MacBook 2017
Retina MacBook 2018
Retina MacBook 2019
List of MacBook Air Model We Repair
MacBook Air 11″ Late 2010
MacBook Air 11″ Mid 2011
MacBook Air 11″ Mid 2012
MacBook Air 11″ Mid 2013
MacBook Air 11″ Early 2014
MacBook Air 11″ Early 2015
MacBook Air 11″ Early 2016
MacBook Air 11″ Early 2017
MacBook Air 11″ Early 2018
MacBook Air 11″ Early 2019
MacBook Air Models A1237 and A1304
MacBook Air 13″ Late 2010
MacBook Air 13″ Mid 2011
MacBook Air 13″ Mid 2012
MacBook Air 13″ Mid 2013
MacBook Air 13″ Early 2014
MacBook Air 13″ Early 2015
MacBook Air 13″ Early 2016
MacBook Air 13″ Early 2017
MacBook Air 13″ Early 2018
MacBook Air 13″ Early 2019
List of Mac Mini Model We Repair
Mac Mini (Power PC)
Mac Mini Model A1176
Mac Mini Model A1283
Mac Mini Unibody
List of iPad Model We Repair
iPad Original
iPad 2
iPad 3
iPad 4
iPad 5
iPad Air
iPad Air 2
iPad Mini
iPad Mini 2
iPad Mini 3
iPad Mini 4
iPad Mini 5
iPad Pro
iPad 5
iPad 6
iPad 7
iPad 8
iPad 9
and more.
List of MacBook Pro Model We Repair
MacBook Pro 13″ Unibody Mid 2009
MacBook Pro 13″ Unibody Mid 2010
MacBook Pro 13″ Unibody Early 2011
MacBook Pro 13″ Unibody Late 2011
MacBook Pro 13″ Unibody Mid 2012
MacBook Pro 13″ Retina Display Late 2012
MacBook Pro 13″ Retina Display Early 2013
MacBook Pro 13″ Retina Display Late 2013
MacBook Pro 13″ Retina Display Mid 2014
MacBook Pro 13″ Retina Display Early 2015
MacBook Pro 13″ Function Keys Late 2016
MacBook Pro 13″ Touch Bar 2016
MacBook Pro 13″ Function Keys 2017
MacBook Pro 13″ Touch Bar 2017
MacBook Pro 15″ Core Duo Model A1150
MacBook Pro 15″ Core 2 Duo Model A1211
MacBook Pro 15″ Core 2 Duo Models A1226 & A1260
MacBook Pro 15″ Unibody Late 2008 & Early 2009
MacBook Pro 15″ Unibody 2.53 GHz Mid 2009
MacBook Pro 15″ Unibody Mid 2009
MacBook Pro 15″ Unibody Mid 2010
MacBook Pro 15″ Unibody Early 2011
MacBook Pro 15″ Unibody Late 2011
MacBook Pro 15″ Unibody Mid 2012
MacBook Pro 15″ Retina Display Mid 2012
MacBook Pro 15″ Retina Display Early 2013
MacBook Pro 15″ Retina Display Late 2013
MacBook Pro 15″ Retina Display Mid 2014
MacBook Pro 15″ Retina Display Mid 2015
MacBook Pro 15″ Touch Bar Late 2016
MacBook Pro 15″ Touch Bar 2017
MacBook Pro 17″ Models A1151 A1212 A1229 and A1261
MacBook Pro 17″ Unibody Model A1297 Unibody: Early 2009, Mid 2009, Mid 2010 & Late 2011
List of iMac Model We Repair
iMac Intel 17″
iMac Intel 20″
iMac Intel 21.5″
iMac Intel 24″
iMac Intel 27″