A NEW CONCEPT OF AN IPHONE
I would like to explain a little something about X & XR. For those who is in need of upgrading their phone, could possibly be wondering if changing to X or XR? All Iphone users want innovation, some really big change aside from just the size. We put XS and XS max out of the topic when price is put into consideration. To start, X & XR phone are both extraordinary phones. Here I would like to share with you guys some features of both phones. There is no winning in this comparison as different people has different needs of what they really want in their smartphones. Starting with Iphone X which is released on 3 Novermber 2017, Apple did a great job of changing the whole design concept of their phone models, which they eliminate the home button which for us is a new feature after all. People will always have these sort of problems of their home button, which over the years can lead to not functioning. So, this is kind of a big change to not to use home button instead. A new concept of Face ID feature is also introduced. The glass on the back has already been introduced in Iphone 8, which supports wireless charging. The common features that both of these maniacs are the disappearing of the home button which is totally a good idea to have a much bigger display. Not to mention both of these Iphones has the IP67 rating for the dust and water resistant.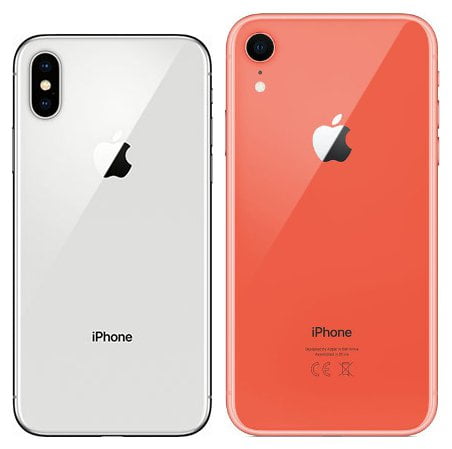 IPHONE X AND XR FROM REAR VIEW
DIMENSIONS, BODY MATERIAL & PROCESSOR
Iphone X has a dimension of 143.6mm x 70.9mm x 7.7mm, which is 5.8 inch of screen and weighs 174 g and for Iphone XR has a slightly different dimension of 150.9mm x 75.7mm x 8.3mm, which is 6.1 inch, weighing 194 g. As we can see here the XR has a satisfying, a bigger display than X. Iphone X has OLED display which has darker black and brighter white, sharper image, on the other hand XR has LCD display which is the same as the other Iphone models. Other than that, X has a stainless steel body which differs from all the other models (not including XS & XS Max) which has aluminium body. Stainless steel body has more glossy, eye-catching finish compare to aluminium, but aluminium is also good itself. Aluminium might not be as strong as stainless steel, but it is one third of the weight of it. Put this in a simple words, aluminium is much cheaper composite than stainless steel. The other comparison that can be put to the test is the process of the iphone. Iphone X has A11 processor but for Iphone XR, it uses A12 processor, the same processor of the latest model Iphone XS and XS Max. The obvious difference between Iphone X and XR is the rear camera. Iphone X has two rear cameras which takes excellent shots and videos and portraits. Although XR has one rear camera, and surprisingly, for the first time that a single camera can take portraits, and it's not bad after all! But as exception, XR cannot take portraits other than people. On top of that, it has a technology called Neutral Engine which allows Smart Capture that takes stunning shots. XR also has True Depth which means you can change the depth of your capture during portrait selfies. Below are a few photos taken with Iphone X & XR.
COMPARISON OF SHOTS TAKEN BY X & XR
FRONT CAMERA : PORTRAIT MODE
REAR CAMERA : PHOTO MODE
           REAR CAMERA : PORTRAIT MODE
SOME ADDITIONAL FEATURES OF IPHONE XR
This is probably the last feature you would want to compare, which is the colour of the Iphone. Iphone XR comes with a few choices of colours, which are black, white, blue, red, yellow and coral while Iphone X comes with red, blue, white, grey and orange. But these colours are not available in all countries, only some are. Some customers wants a perfect and a different look for their phone. To conclude, I would not say that which is better than which, because it is clearly that we could not tear this two apart. But for instance, all i can say is that if a person wants to upgrade from an Iphone 6s, for example, i would gladly say that Iphone XR is going to be a good choice after all, beside the lower price, but Iphone XR has the latest processor that is totally going to be a new thing for an Iphone 6s user. But they would not be having the full experience as Iphone X, with the camera and the stainless steel body. For an Iphone X users, they would not be eyeing on iphone XR as this could limit some of the features of an Iphone XR, except that it is faster. Different people will have different perspectives about this topic. Thank you for your time!
IPHONE XR COLOUR CHOICES
IPHONE X COLOUR CHOICES